IT Governance supports the evolution of UQ-wide IT planning, assurance and operations, moving toward a model that best aligns the IT function with the University's Strategic Plan in an environment where planning, investment and priority-setting are transparent and coordinated.
IT Governance adapts to the changing strategic drivers that influence UQ objectives, responding to changes in the business and regulatory environment, and the development of new technologies. IT Governance ensures that stakeholder needs, conditions and options are evaluated.
To achieve this, clear authorities, mandates and visibility of IT delivery are required. These areas are defined by the IT Governance framework (PDF, 1.71MB).
Governance and management areas
Established in November 2016, the role of the Chief Information Officer (CIO) is to ensure that the University's IT environment is fit for purpose and designed for agility and efficiency.
IT Governance is supported by the:
Strategic Information Technology Council (SITC), and
Information Technology Governance Committee (ITGC).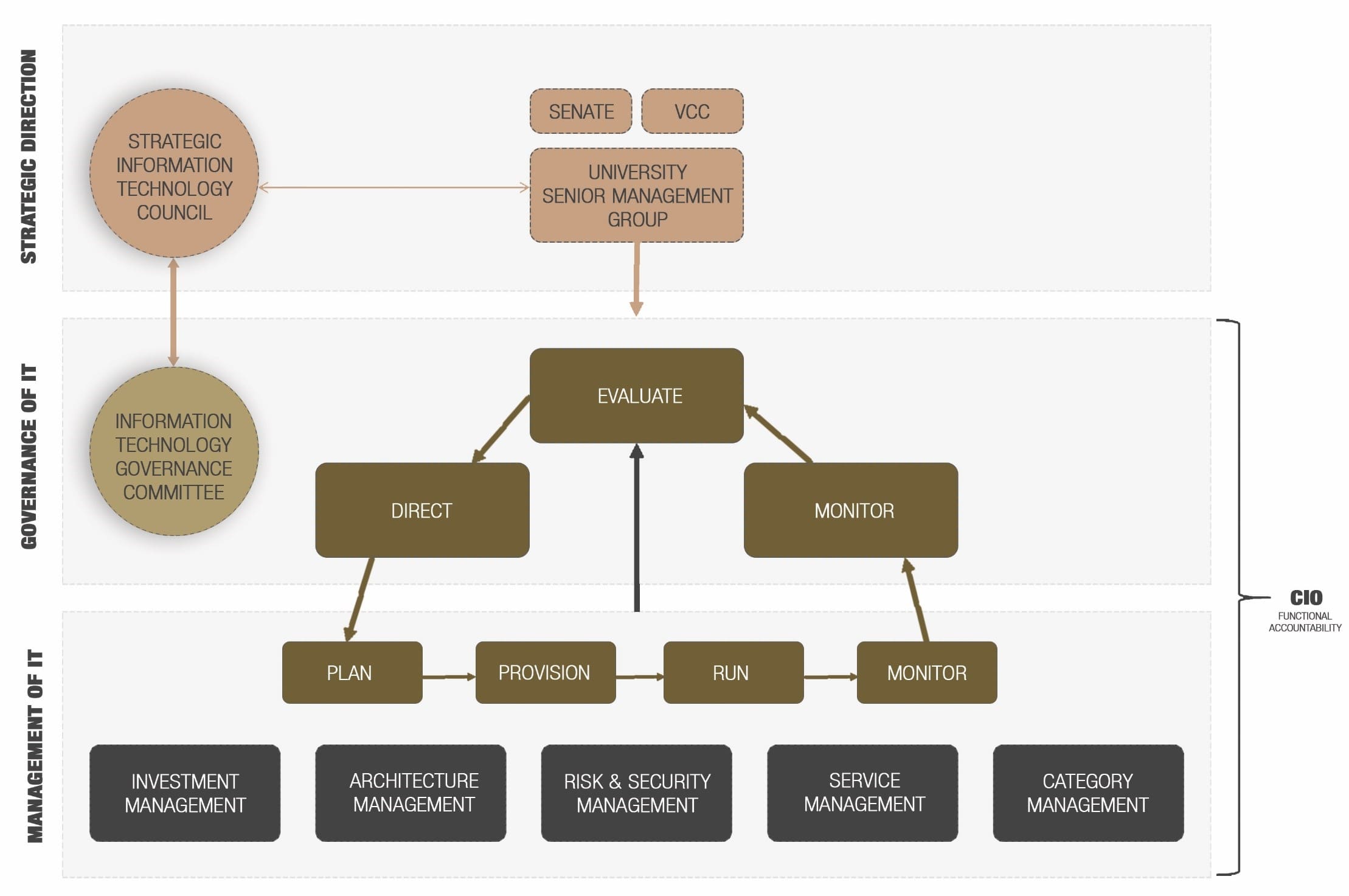 Governance objectives
Provide IT architectural guidelines and principles that underpin the development of IT capabilities at UQ.
Align Information Technology with UQ's Strategic Plan and support the advancement of organisational priorities.
Enhance and communicate the performance of Information Technology.
Maximise the value of Information Technology resources to provide stakeholder value.
Ensure compliance, and identify and mitigate Information Technology risk appropriately.
Governance principles
Balance of needs: Provide mechanisms to balance short-term local needs with the long-term needs of the whole institution.
Federated and integrated: UQ IT services are delivered under a partly federated model. This model effectively uses the Information Technology Services Division for the provision of services and technology of both scale and ubiquity to provide an IT environment that meets the needs of the UQ community.
University-driven IT investment: IT investments are prioritised and selected based on the institutional benefit.
Governance priorities
Align the IT function with UQ's strategic direction to meet defined University goals and objectives.
Examine IT risks and security objectives across the institution and implement measures that reduce UQ's risk profile. Compliance with government guidelines and legislation, and with good procurement practice, will also be monitored.
Ensure economic and other benefits are realised in all IT investments, from project selection to implementation to ongoing management throughout the lifecycle.
Determine and establish performance measures that define the success of IT projects and services. Measurement of alignment with UQ's strategy, funding allocation and project results are also considered.
Optimise IT resource capacity and performance while forecasting future needs, including the appropriate IT staffing profile.
Governance enablers
The ITGC will deliver on the Governance priorities through effective management of Information Technology Functions.
Frameworks, management committees and effective communications to the communities that deliver and use IT are used to monitor, evaluate and improve the IT function performance.
Frameworks
Frameworks are policies, standards and guidance that create a consistent approach to managing each of the Management functions of IT. Frameworks include:
IT Reporting Framework
IT Architecture Framework
Information Management Framework
Security Management Framework
Project Management Framework
Category Management Framework
IT Contract Management Framework
Change Management Framework
Incident Management Framework.
Management Committees
These committees are the collaborative decision-making power that provides assurance over a subset of the management functions of IT. Management committees also provide appropriate prioritisation and direction to ensure the management functions of IT are meeting the needs of stakeholders.
Current Management Committees include:
Project Advisory Board
Change Advisory Board
Information Security Group
IT Asset Management Advisory Group
IT Service Management
Financial Systems Management Advisory Group
Student Systems Steering Committee
Customer Experience Steering Committee
Enterprise Support Systems Portfolio Planning Group.
Effective communication
A number of communities support UQ in delivering on IT functions, following the direction of management in delivering value for the UQ community. They communicate and share information. These communities include:
Information Technology Relationship Officers
Information Technology Leaders Forum
The IT Category Manager
Financial Systems Operational Forum
Student Systems Operational Forum
UQ IT Architecture Community.
Management functions of IT
Management plans, provisions, runs and monitors activities in alignment with the direction set by the CIO to achieve UQ enterprise objectives.

The management of IT at UQ can be categorised into the following five functions in accordance with UQ's needs and priorities. Management regularly reports on these activities to the appropriate governance body.
Investment management
Focus:
To ensure that IT investments are prioritised to deliver on UQ's strategic objectives, and are based on sound business decision-making investment principles.
To ensure intended benefits are derived from investments undertaken.
Disciplines:
Financial Management
Pipeline Management
Resource Management
Benefits Realisation.
The CIO has tasked the Project Advisory Board in overseeing the responsible allocation of investment for IT programs and projects under the ICT investment plan.
Architecture management
Focus:
To work towards a mature practice where Enterprise Architecture is an enabler of efficient and effective IT capability development and service delivery.
To build roadmaps and mechanisms that lead to the desired future state.
To ensure alignment of IT to UQ's strategic direction.
Disciplines:
Business Architecture
Data Architecture
Application Architecture
Technology Architecture
Security Architecture.
The ITGC will oversee the function of Architecture Management.
Risk and security management
Focus:
To enable world-class information technology services while protecting UQ from increasingly aggressive and sophisticated cyber threats.
To align information security with the objectives of the University, providing visibility of key risks and issues to enable ownership by the governing bodies of UQ.
To manage the risk of uncertainty in delivering objectives through appropriate identification and mitigation of risks.
Disciplines:
Data Classification
Application Security
Infrastructure Security
Business Continuity Planning
Disaster Recovery Planning
Project Risk Management
Enterprise Risk Management.
The CIO has tasked the Information Security Group in overseeing this function, with regular updates to the ITGC.
Service management
Focus:
To align the delivery of IT services with UQ's needs, underlining benefits to customers.
To monitor the effectiveness of end-to-end services.
To improve quality and reliability of IT services offered.
Disciplines:
Service Support

Change Management
Problem Management
Incident Management
Availability Management
Release Management
Configuration Management
Capacity Management

Service Delivery

Service Level Management
Financial Management for IT Services
IT Service Continuity Management.
The IT Service Management Committee will monitor the functions of service delivery reporting regularly to ITGC. The Change Advisory Board will oversee the service support discipline of service management.
Category management
Focus:
To provide a strategic IT purchasing and procurement approach that supports the IT Strategic Plan, drives value for UQ and responds to the UQ community's expectations.
To develop an IT purchasing and procurement framework for use consistently across UQ.
To establish supply arrangements for commonly purchased items that leverage UQ's collective buying power.
To advise purchasers in relation to meeting custom requirements and provide assistance in preparing and publishing tenders for significant procurements.
To maintain the purchasing and procurement lifecycle for IT products and services.
To identify, manage and strengthen vendor relationships to support effective contract management and benefits realisation, and to identify future opportunities.
Disciplines:
Procurement Analysis
Procurement Planning
Tender Management
Vendor Management
Asset Management
Contract management.
IT Category Management is a new capability being developed at UQ. The ITGC will oversee the function of IT Category Management with the IT Asset Management Advisory Group (reporting to ITGC) continuing to oversee software compliance and asset management.