UQ Lake and Amphitheatre Renewal
The iconic UQ lake and amphitheatre is being transformed into a self-sustaining ecosystem that offers habitat for wildlife and more opportunities for people to enjoy the area.
Lake Project
The main lake is more than 70 years old and was built prior to much of what we know today about urban water systems. Thanks to scientific practice and research, the behaviours of urban lakes are now far better understood. 
As part of UQ's water-quality monitoring program, water samples were taken regularly since 2010. There were some signs of water quality deterioration in 2018, and in early 2019, the lake experienced a significant blue-green algae bloom – indicating a lake out of balance and no longer able to self regulate back to health. 
A range of options to recover the health of the main lake were explored and an Independent Expert Panel working group concluded that a redesign of our much-loved lake would be required to provide a long-term, sustainable solution. 
Amphitheatre
The Amphitheatre located between the UQ Lakes Bus stop and Advanced Engineering Building (50) is currently an open grass space underutilised by staff, students and visitors.  
Access, functionality and visual enhancements will ensure the precinct is enjoyed for generations to come.  The space will be redesigned to include an open-style stage, additional seating in the form of curved terraces, new viewing points through to the lake, and lighting and electrical infrastructure for a wide range of events and activities. Upgraded pathway networks and enhancements to the main stairway will improve accessibility and pedestrian flow. The renewed area will be an excellent outdoor space for events and activities, and will enhance its collaborative use. 
Stage 2 of the UQ Lakes and Amphitheatre Renewal project will commence soon.
The renewal project will align with UQ's Sustainabilty initiatives through:
restoring and maintaining water health
preserving and sustaining flora and fauna
enhancing the amenity for the community
The renewed lake and amphitheatre will be a place where people can connect with nature and each other, today and for generations to come.
Principles
The principles driving this project were developed by experts to represent best practice. They are underpinned by robust, sustainably-driven research and extensive experience in urban water management.

Water health
Aquatic ecosystems will be enhanced through innovative and sustainable water management practices to improve water health and prevent algal bloom.

Recreation
The landscape surrounding the lake has also been designed to maintain aesthetic appeal, maximise pedestrian access and flow, and provide new points of interest.

Habitat 
A range of sub-tropical habitats including basking areas, woody debris, and aquatic and terrestrial native planting will preserve the health of our flora and fauna.
Strategies
Ecosystem health and water management
Phase 1 of the lake renewal will involve de-watering the lake while facilitating the safe collection and relocation of native aquatic fauna. 
Phase 2 of the lake renewal will focus on preparing the lakebed. This will involve reducing the lake's depth and reshaping the lake to ensure best water quality outcomes, construction of the recirculating wetlands and formation of a capping layer over the lakebed to protect the new water body. 
As part of this work, the existing footprint of the lake will be reconfigured to include new design features better suited to our sub-tropical climate. The overall size will generally remain the same. 
The design includes the introduction of wetlands at the southern and northern end of the main lake connected by a narrow corridor of wetlands along the western lake edge. The wetlands will provide 'in-lake' treatment, filtering and recirculating water to manage water quality. 
Native planting around the lake's edge, submerged and emergent aquatic plants will be used to provide habitat and support a healthy and self-sustaining ecosystem.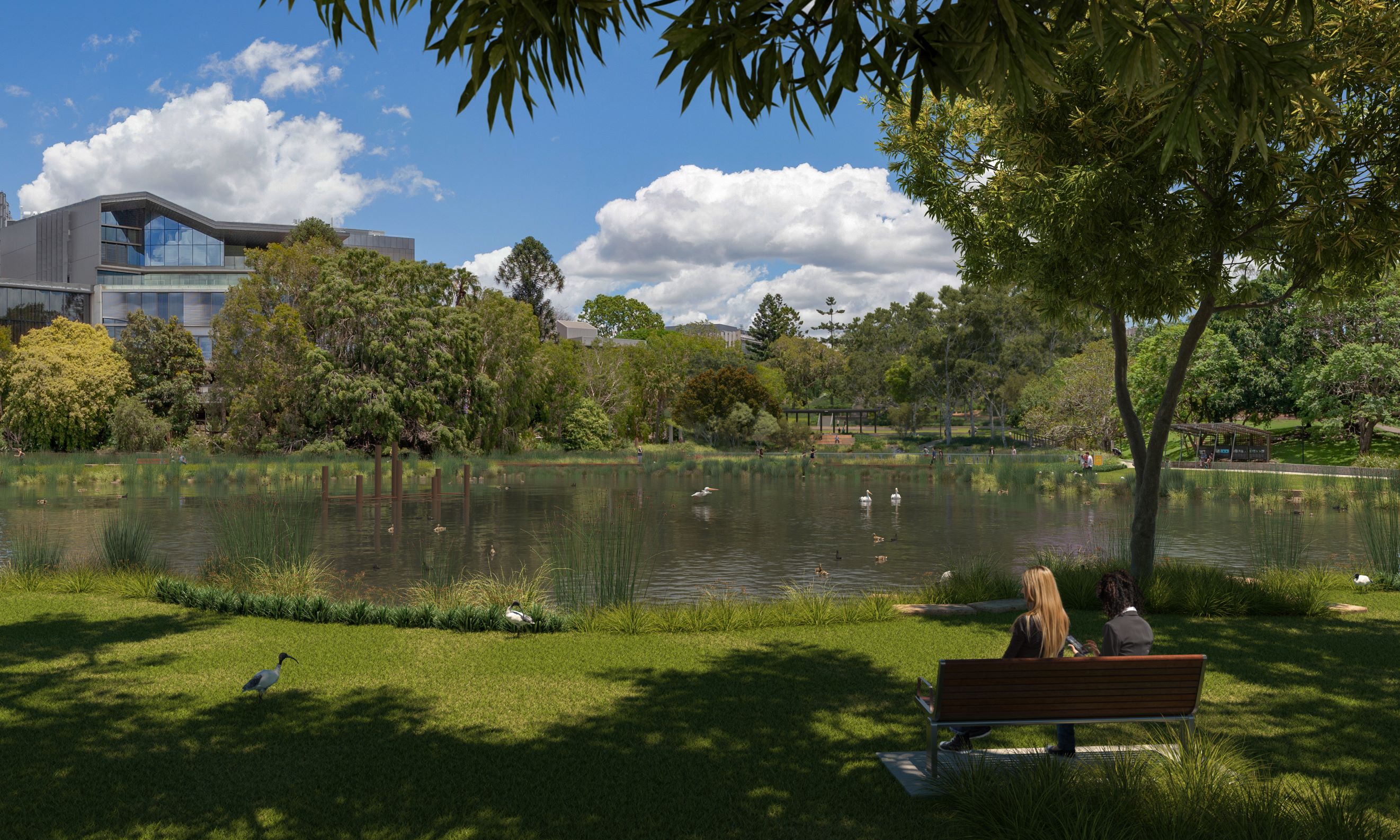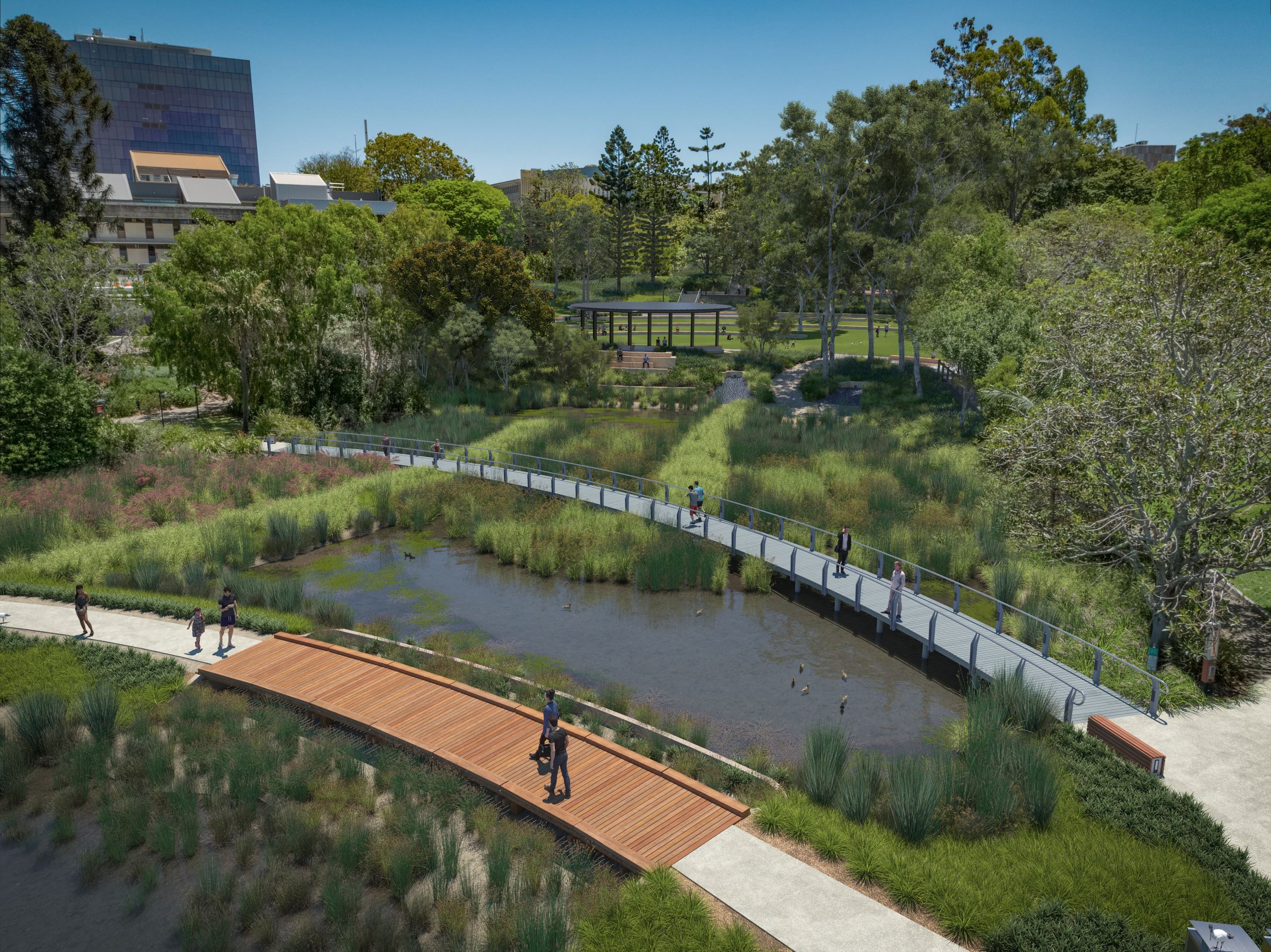 Protecting flora and fauna
We are working closely with wildlife, environmental, sustainability, design and construction experts to ensure the renewal process is carried out carefully, and to the highest standards of conservation and recovery for flora, wildlife, and habitats.
The project will involve the planting of approximately 8,000 trees, palms and shrubs and 66,000 wetland plants. Where possible existing mature trees will be retained.
We'll also undertake removal of weed and pest species with a core objective to maintain native species. Comprehensive environmental and species management plans will guide the safe collection, handling and relocation of fauna throughout the renewal project. The relocation work will be undertaken by qualified ecologists, with skills in handling terrestrial and aquatic fauna, and in accordance with relevant environmental approvals and operational permits. A dedicated project ecologist and fauna spotter will be on hand throughout the construction.
A specific dewatering plan will also guide the management of water resources and releases, to avoid harm to both aquatic fauna and downstream environments and waterways.
Read more about the collection and relocation of UQ Lake aquatic fauna.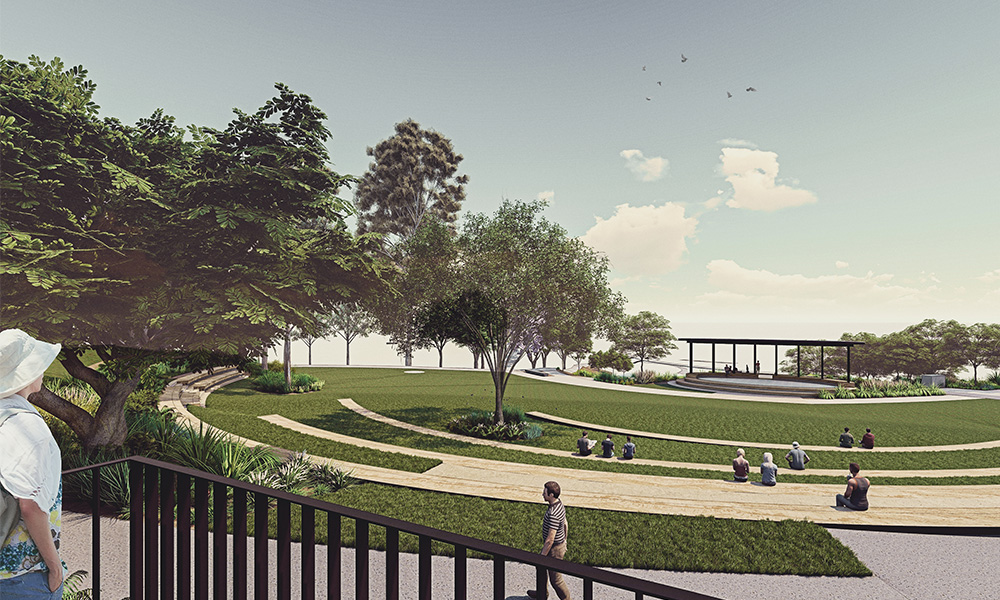 Learning and community connections
Preserving the lake also means we're preserving UQ's 'Living Laboratory', with many engineering and science courses using the lake for research and learning. 
The amphitheatre area will be redesigned to improve its functionality and expand the types of events and activities that can be held in the space.
The new design will include  collaborative seating, additional footpath access, lighting, and electrical power supply for a wide range of events, activities and performances.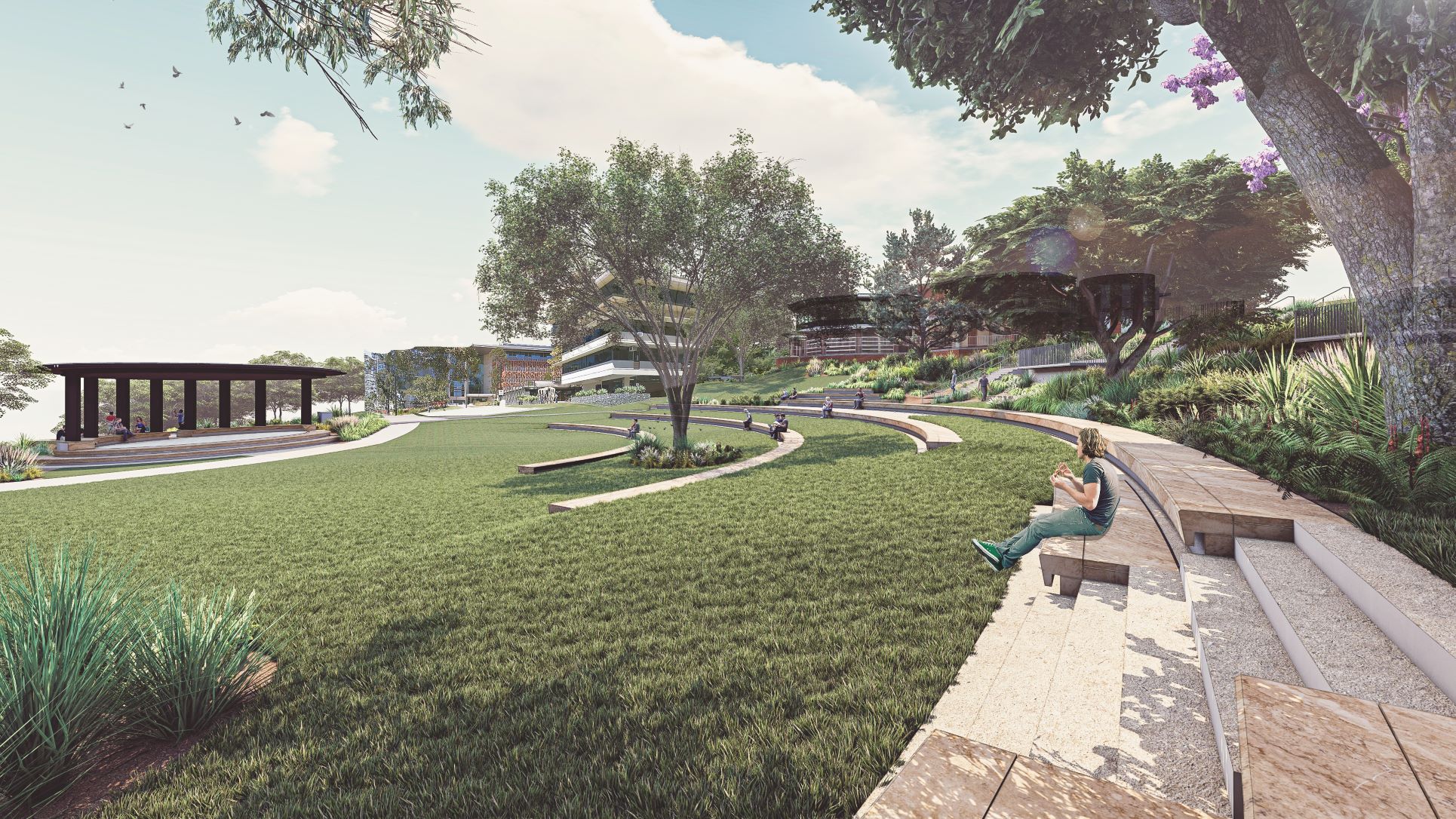 Partnerships and collaboration
A working group was established in 2019 to include representatives from UQ and an external expert panel, convened by the International River Foundation. This group developed the design concept for the lake which represents best-practice and commercial knowledge of lake renewal projects. 
The design was developed in partnership with E2Designlab, a specialist group who bring together expertise in engineering, water sensitive urban design, ecology and integrated water management.  
Timeline
Stage 1 works began in late March 2022 and is expected to be completed by the end of 2023.
April - May 2022
Lake dewatering
Site clearing
Fauna removal and relocation
Amphitheatre earthworks
June - September 2022
Lake dewatering
Lake mass soil mixing
Amphitheatre civil works

September - November 2022
Lake bed clay lining and civil works
Lake bund civil works
Amphitheatre hardscapes, civil works and landscaping



November - December 2022
Lake bed clay lining and civil works
Amphitheatre hardscapes, civil works and landscaping




January - May 2023
Lake wetland planting
Amphitheatre landscaping and planting
Lake bund boardwalks
Lake bed clay lining and civil works


May - September 2023
Completion of landscaping
Wetland establishment (ongoing post completion)
Planning for Stage 2 works

October - December 2023
Completion of Stage 1 works
Amphitheatre partial opening
Site establishment for Stage 2 works
Commencement of Stage 2
While works are ongoing, access to the lake, amphitheatre and surrounding areas, footpaths, cycle paths and facilities will be restricted. Check the Road and Building works updates website for notifications on closure times.
Alternative Access Routes
For further information on the construction site boundaries and alternative driving,cycling and walking pathways around the site please download the below map.